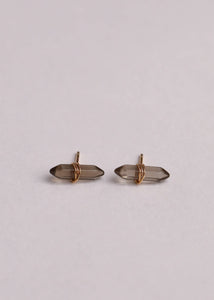 Handcrafted genuine polished gemstone wrapped in 18kt gold over sterling silver wire. Butterfly backings. Stones are sisters not twins, measuring approximately 1/2 in by 1/8 in. Natural stones will show variation in tones and color. Smoky Quartz is known for its grounding, balancing, and protective vibrations.
Hand-crafted 18kt gold vermeil Sterling silver base. Made in the United States. 
 Description provided about crystals is for information purposes only and not intended to diagnose, treat, cure, or prevent any diseases.