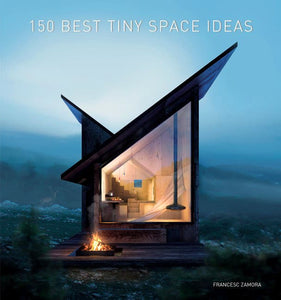 As the prices of large residences have become increasingly out of reach for many people, aspiring home owners have begun to think smaller. 150 Best Tiny Space Ideas is an exciting overview of the smallest living space designs—architectural and decorating trends that combine to make dwellings under 450 square feet feel welcoming and expansive. All the projects featured in this handsome reference were created by internationally renowned architects and designers who have achieved practical, innovative, and stunning solutions adapted to the specific needs and tastes of their clients.
Encompassing current trends in small space design, this latest volume in the highly successful 150 Best offers the work of international visionaries who have created and transformed a range of accommodations, from a micro-apartment in Taipei City to a silo in Phoenix to an island shack in British Columbia.
Filled with black-and-white and four-color photos throughout, 150 Best Tiny Space Ideas is an inspirational resource for designers, interior decorators, and architects, as well homeowners interested in creating warm and truly livable homes regardless of space limitations.