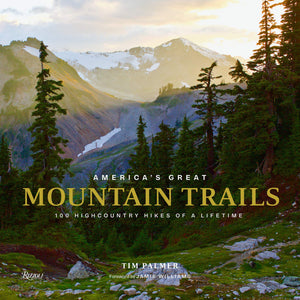 America's Great Mountain Trails: 100 Highcountry Hikes of a Lifetime
Winner of the 2020 National Outdoor Book Award, this book is a hiker's inspirational bucket list embodied in a lavishly illustrated celebration of our nation's one hundred best mountain trails.

America's mountain trails lure us to exquisite heights, from the Atlantic Coast in Maine to the Pacific edge in California and the Northwest. These rugged yet seductive pathways call to all who seek both solace and adventure, whether out for a day hike or an extended backpacking expedition. America's Great Mountain Trails introduces readers to one hundred hikes of a lifetime.

The book covers some of our nation's most legendary trails and some that are scarcely known, but all can take us on journeys to remarkable places. Between the ancient Appalachians and the Pacific Coast's uplift lie the Rockies, Desert Range, Sierra Nevadas, Cascade Mountains, Olympics, and more. Beyond are the resoundingly wild terrain of Alaska and the islands of Hawaii and Puerto Rico, which ascend like dreamy visions from the sea.

Readers get practical details about the length and difficulty of each hike, along with concise directions to each trailhead, tips about the best seasons to go, advice on permit requirements, and a selection of alternate routes. An appendix offers information about what must be done to protect these special places so they'll remain alluring and rewarding to all the generations ahead. With fascinating text and beautiful photography by Tim Palmer, America's Great Mountain Trails is sure to become the definitive reference book to the most outstanding mountain trails in America.
Publisher ‏ : ‎ Rizzoli; Illustrated edition (September 17, 2019)
Language ‏ : ‎ English
Hardcover ‏ : ‎ 320 pages
Item Weight ‏ : ‎ 4.54 pounds
Dimensions ‏ : ‎ 10.37 x 1.38 x 10.32 inches