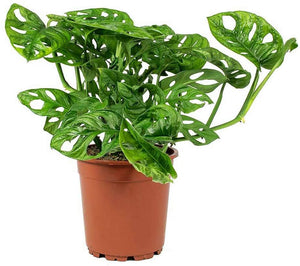 SHIPPING ONLY AVAILABLE FOR 6" AND SMALLER. 8" OR LARGER IS AVAILABLE FOR IN STORE PICKUP.
Monstera Adansonii

Other names: Swiss cheese plant
Lighting: Bright Indirect Light / Medium Light
Watering: Water when the top 1/3 of the soil is dry. This plant will wilt slightly if it is thirsty. 
Growth: Vining and/or climbing; fast grower 
Special Notes: If this plant is trained up a stake or moss mole, it will produce larger and wider leaves.