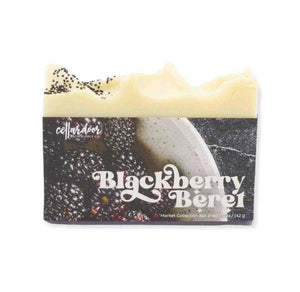 **Previously known as Raspberry Beret**
sun-ripened blackberries. sweet vanilla beans.
Hop on your bike and take a ride down by old man
Johnson's farm. Find that hidden clearing by the edge of
the woods that only you know about where the
blackberries are as sweet as the summer sunshine. Flatten
out a blanket, kick back, and watch the clouds roll by
while you take in the fresh country air. Then, after that
long bike ride back, grab a bar of Blackberry Beret to wash
away the purple stains from an afternoon well spent.
This and all of our soaps are made with a carefully
sourced blend of five plant-based oils, including extra
virgin olive oil and shea butter. This bar soap
variety features a unique, sophisticated scent, vibrant
dye-free colors, and natural botanicals.

• SLS and SLES-free
• Detergent-free
• Phthalate-free
• Paraben-free
• Sulfate-free
Size: 50z / 142g