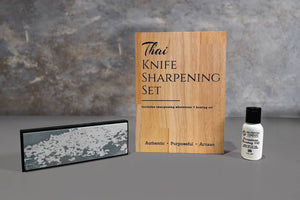 To care for your Thai Knives and other premium knives in your collection, we've put together this knife sharpening set, including a fine Arkansas waterstone and premium honing oil presented in a beautiful mangowood storage box to match our Thai Knife Collection.
This natural oilstone is quarried in the mountains of Arkansas, and is finer than the man-made oil stones that can be found in the marketplace. Because it is a natural stone, the color and pattern will vary with each stone, making each one unique. The size is perfect for outdoor enthusiasts due to the compact size, for sharpening fish hooks, arrows, and hunting knives as well as kitchen tools. Made in the U.S.A. An essential component in the sharpening process, this oil will lubricate the stone surface for ease of blade glide. The oil also helps float away particles of metal that accumulate during the sharpening process.
Light, non-toxic, mineral based and USDA approved food grade. Made in the U.S.A.