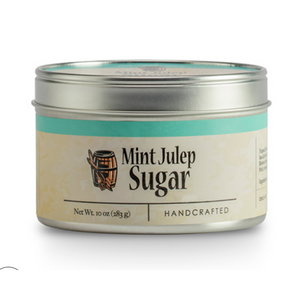 Named for the official drink of the Kentucky Derby, Mint Julep Sugar has all the rich caramel flavors of raw sugar as well as the refreshing flavors of mint.  Use it as finishing sugar for desserts, a topping on fresh fruit, or muddled into your favorite cocktail or tea. 10 oz. 
Handcrafted in Louisville, Kentucky.
Ideal for baking, candies, Ice Cream, Coffee, Tea, and Cocktails.
Ingredients: Raw Natural Demerara Sugar, Organic Spearmint Leaf Powder